I have been trawling the internet almost hourly since I have had knee surgery and unable to work. I haven't been wasting this time looking at the latest Hollywood trends or anything I have been researching the latest ideas and trends in Children's Ministry.
I came across a 'grab-a-bag' technique on Pinterest to help children of different ages explore their faith through prayer from using playdough to building blocks and plastic spoons. I also know of other Churches who use sharing baskets and bags to tell different stories of the Bible. This inspired me to encourage the members of
S-T-O-C-K-S
to borrow a bag with activities to use at home.
So today's session was a mix of talking about John 21: 1-14 and creating a fishing net scene and then creating a display table for all the items which will go into our Borrow Bags once myself and the Mothers Union have created them.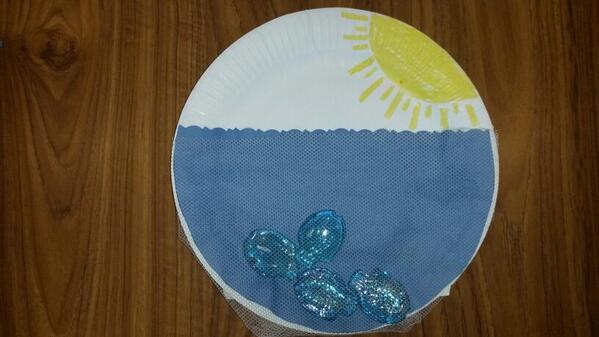 John 21: 1-14 The fishermen see Jesus for the first time.
They throw their net over the right hand side of the boat and they catch fish.
Here I took a paper plate and cut a Blue sea to cover half of the base. I drew a big sun and with extra time I would have stuck a small fishing boat (or half a boat for a better effect) on the water. I covered the bottom with clear netting which I secured behind with tape and then placed glass fish in the net - you can use card fish templates if you don't want to splash out - no pun intended.
Here are a few examples of what we have in mind for the borrow bags - thus far - it is all work in progress at this stage. I have thought of doing a bag for the story of Joseph, Noah, Jonah, Values, Welcome, Prayer and possibly one for Teens. I can't wait to make the Joseph bag with a felt base on a take away container and have a felt cut out coat (for Joseph's coat) and then different coloured felt strips to then place on the coat. Not to mention spoon puppets of his twelve brothers etc.
For the story of Noah and the ark we will have a book of the story a dvd of the story an ark, two of each animals, making a dove activity etc.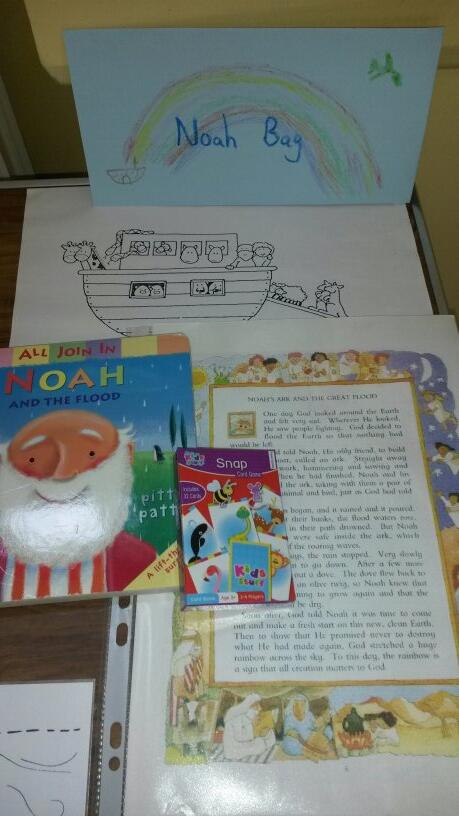 Noah Bag thus far
For the welcome bag I want to introduce Christianity gently to new comers who may not have been to a Church before. I thought we could vary it for new comers over a few weeks so we have three dvds including volume one and two of
What's In The Bible by Phil Vischer
which is fabulous and fun. Then we have
The Jesus Movie
which again is very enjoyable and children relate to the format of visuals. There will also be a book about God and in the bag with the Bible dvds there will be a Childrens Bible. I will also include a creation wheel activity for the children to keep at home along with an information booklet about
S-T-O-C-K-S
and our leaders.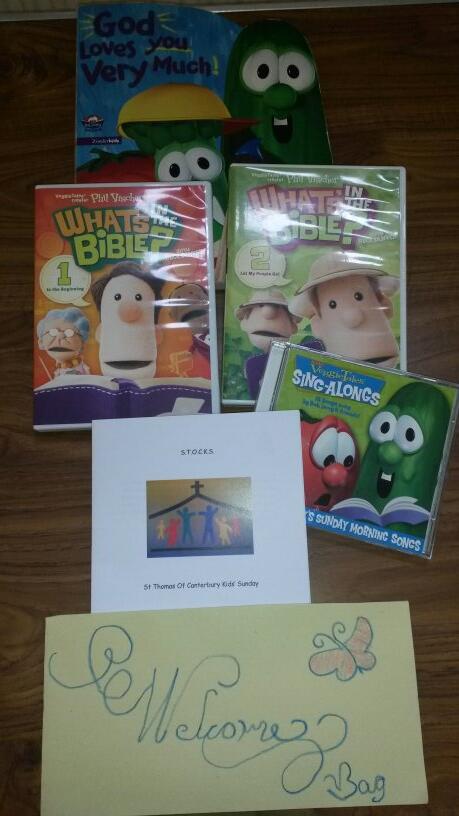 Welcome Bag thus far
My favourite bag is the Prayer Bag which I think the entire family can enjoy together as the younger children may need some help with this. The idea is to talk about prayers so by reading some prayers from a children's prayer book they can then have their own chance to write/draw their prayers on a wipeclean board. following that they can then enjoy creating their own prayers by using prayer stones to create individual sentences such as this one I made earlier: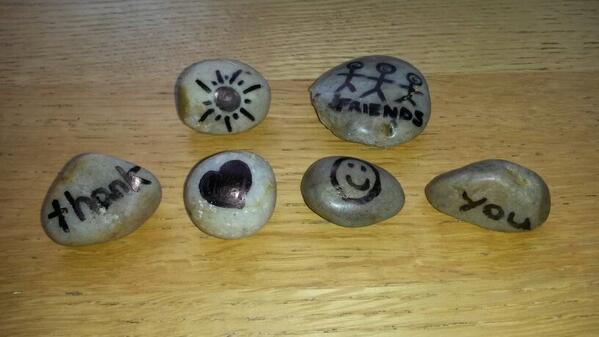 My creative streak coming out ;-)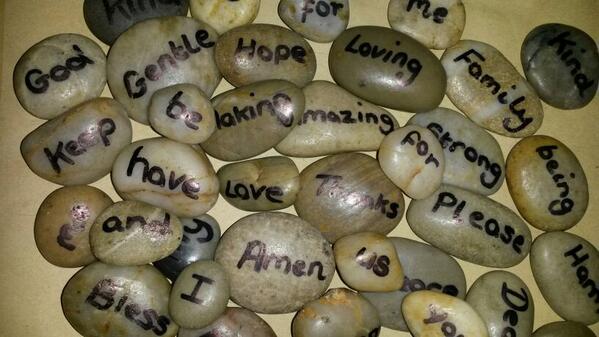 So as you can see this is a work in progress but I wanted to share it with you and with members of our congregation who are kindly donating to the S-T-O-C-K-S fund in order to bring this vision to life.
Until next time
Every Blessing